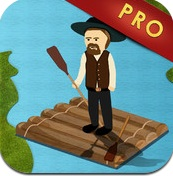 Welcome to The River Tests Puzzles Collection – Ultimate Brain Teaser for you and your family!
THIS IS JAPANESE JOB INTERVIEW IQ TESTS THAT THEY GIVE DURING JOB INTERVIEWS FOR SENIOR POSITIONS. ONLY 10% OF THE PEOPLE ON THE PLANET CAN PASS SOME OF THE TESTS!
The River Tests is the collection of River Crossing puzzles for your iPhone, iPod touch and iPAD. It is believed that only 10% of the people on the planet can solve all tests.
Each level is a separate test that will take your logical thinking to its limits. Do you think you've got what it takes? Do you think you're one of the 10% who can figure these riddles out? Give it a try, and test your skills to see if you're the smart one.
https://itunes.apple.com/gb/app/the-river-tests-pro/id473689303?mt=8