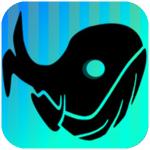 Beach Whale is a 2D scrolling game where you, a whale need to collect fish to eat, however at the same time you have to watch out for obstacles, other creatures and bosses. Your life really isn't an easy one. You use the fish you have eaten to unlock new levels, new powers, different whales and other accessories that make your game experience more enjoyable. While you are trying to complete a level, you have to be careful not to get beached but also to try and reach as many little fish as you can. If you can master riding waves, it makes you increase your speed and shoot onto the beach further.
https://itunes.apple.com/us/app/beach-whale/id564220102?mt=8
Beach Whale is available for all your iOS devices, however it is quite a simple and basic game. There is a total of 5 different stages that can be unlocked. Also the soundtrack for this game is quite dramatic which is something we noticed in the first level. Overall Beach Whale could possibly be a great game, however its not there now. The game really needs to be refined in it's functionality and designs. But its not a terrible start.
Platform: iPhone/iPod/iPad
Price: $0.99
Version: 1.0.2
Category: Games
Size: 45.6 MB
Developer: Dingle. LLC
App Store Description:
Play as a whale today!
Collect fish, unlock and upgrade whales, win trophies, accessorize the look of your whales, and battle against powerful bosses.
This silly 2D action game is the perfect adventure for kids, adults, and gamers of all types. Surf waves and ride the tide into the beach to collect fish and items, but be careful, get stuck on the sand and you'll become a beached whale.
Features

– Action oriented gameplay
– Beautiful and detailed graphics
– Simple tilt controls that are easy to use and just feel right
– Play as six unique whales
– Upgrade your whales with game changing powers
– Dress up your whales in fancy accessories
– Unlock treasures and awards
– Four worlds, boss fights, and survival mode
– Great music and sound effects
Beach Whale is available in the languages: English, French, German, Spanish, Italian, Russian, and Chinese.