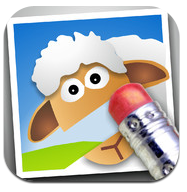 ClonErase Camera is a Photo & Video application for your iPhone or iPod touch. With this you can take multiple pictures, with different objects or people in them. Then you can either remove all the objects that have moved or include them all in a single photo. This is done for you automatically by the application, then you just select which one you want to keep and share via twitter and Instagram. A fun thing you can do with this application id take multiple photos of the same person in different locations of the frame, then combine them all and you can have a crowd of the same person.
https://itunes.apple.com/gb/app/clonerase-camera-automatic/id530124801?mt=8
In order to make this work, you need to take multiple shots in the same location, a tripod works the best, but you can also see the previous frame slightly after you take them so you can try to line up the objects for the next frame. You have to take at least two frames in order for this to work, however a larger number produces better results we found. The app UI is simple and easy to use, it also comes with a set of instructions. Overall its a fun little app, however the price would be more suited at the one dollar mark.
Platform: iPhone/iPod
Price: $1.99
Version: 1.2.0
Category: Photo & Video
Size: 5.1 MB
Developer: ZEDOnet GmbH
App Store Description:
ClonErase Camera: Automatically clone or remove people and objects!
With ClonErase Camera people can appear multiple times on the same picture – or remove unwanted people and objects.
ClonErase works fully automatically and does not need any marking of clone areas! It's so easy to produce stunning results!
How it works:
1) Shoot up to eight pictures of the same scene with people or objects moving around.

2) ClonErase Camera automatically detects all changes in the images (e.g. a person changed the position) and produces two results:
a) Clone: an image with clones (up to 8!) of the person on several positions (multiplicity)
b) Erase: an image with all moving people removed
ClonErase Camera also features a self-timer that helps you clone yourself!
Easier to use than other clone apps – and better results!
Examples of use:
– A funny picture presenting you several times in various poses
– You don't want any pedestrians on your photo of a monument? Easily remove them with ClonErase by taking several shots, it combines all uncovered image parts to a new photo.
– Action shots – combine several stills of a motion sequence into a single image
– You climbed the mountain peak together but there's nobody to take a picture with both of you? Just take two photos each with one of you, ClonErase creates a picture showing both.
Please find more information and our video at:
http://www.clonerase.com