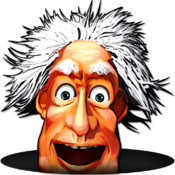 CrazyTalk7 is a great facial animation application. It allows you to take images of people, creatures, objects and make them talk. Not just with a voice over, but actual movements and muscle reflexes. Also the best part is how easy it is to get going, you can select a few sample characters and then add your own voice overs either by typing your text or just speaking it, then the software automatically adjusts the animation to go with its new script.
https://itunes.apple.com/gb/app/crazytalk7/id551903255?mt=12
CrazyTalk7 can be seen as a fun "toy" application, however it is also very powerful, it can go into great details and can be used to create some great short animations. Now obviously its not at the same quality as what you would expect to see in recent releases but its not that far off. You can literally create your own cartoons, youtube channels and stories with CrazyTalk7. Its also fast and quite easy to use after a little playing around. Another great thing is the speed, it processes all characters and voice changes quite quick compared to some advanced animation software like after effects or anime studio.
Platform: Mac
Price: $29.99
Version: 7.031.1031.1
Category: Video
Size: 168 MB
Developer: Reallusion Inc.
App Store Description:
CrazyTalk7 is the most popular facial animation tool that uses sound and text to vividly animate facial images. With this groundbreaking Auto Motion technology, you just need to import images, specify the facial feature points and record your own voice to automatically generate lip-syncs to create 3D life-like, talking videos.
"CrazyTalk is easy enough for first-time animators to use, and full-featured enough for pros who need to quickly create characters and storylines." – About.com Macs, US
"CrazyTalk goes way beyond the basics by producing slick, customisable and controllable results." – MacUser, UK
"Great fun, animation intelligently understands recorded audio and responds accordingly, inexpensive." – MacWorld, UK
"A good product, albeit a niche one, but a lot of laughs." – MacFormat, UK
"CrazyTalk has been the best tool for Facial animation on Jimmy Kimmel LIVE for years for a simple reason: the script can always change at the last minute. CrazyTalk keeps up!" – Jesse Griffith, Animator – Jimmy Kimmel Live
Endless Possibilities
•Casual: Anyone can animate talking pets, sketch drawings, baby photos or inanimate objects to create fun and interesting videos in minutes.
•Social: Communicate in a fresh way with visual messages, animated holiday greetings, or lively presentations that grab everyone's attention.
•Education: Students and educators greatly benefit by conveying information, arousing interest, and participation, in a fun and natural way.
•Media: The powerful editing tools allow professional animation for music videos, storytelling, comic/cartoon generation and more!
Features
1.Turn Any Image into a Talking Head
•Import JPEG, BMP, TGA, and PNG formats.
•Follow the facial fitting and 3D orientation process to create life-like characters with VividEye technology.
•Auto-detection system for instant background removal.
2.Auto-lipsync with your Own Voice
•Import WAV, MP3, record your voice audio, or use TTS.
•The audio lip-syncing engine animates character's mouth with the built-in phoneme library that distinguishes a wide range of vocals.

•Morph your voice or add spatial effects to it.
•Manually refine your lip-syncs in the Timeline, and adjust the strength of the lip shapes with flexible controls.
3.Auto Motion Technology
•This feature analyzes the tones in your voice to auto-generate head and facial movements while you apply different styles to any voice scenario.
•IDLE: Set a animation foundation.
•FUNCTIONAL: Choose basic head movements.
•SCENARIO: Fit any motion styles like singing passionately at an opera, or crying out loud with fear.
•Adjust the strength, threshold, smoothness and spring effect.
4.Custom Facial Puppeteering
•Use a mouse or handheld device to puppet your avatar in real-time to set a personality.
•Choose specific facial muscles to control, create expressions and head movements while you record live.
•Create motion clips that can be layered and edited for later projects.
5.Rich-Content Library
•Get started quickly and be inspired with beautifully-crafted projects, actors, voice scripts, and audio which can be further customized.
•Auto Motions and backgrounds can be used to fit particular scenarios, or combined, edited and layered with studio-made Motion Clips for intricate expressions.
6.Timeline Editing and Refinement
•Use specific facial expressions from the library and overlay them in the Timeline, or puppet to create your own.
•Manipulate any motion clip with cut, copy, break, loop and speed functions, and save it in your custom library for future projects.
7.Output
•Export videos or images in different size and ratio.
•QuickTime videos codecs: Resolution up to 1920×1080.
•Image sequences in alpha channel (BMP, TGA, and PNG).
8.Free Online Video Tutorials, Manuals and Forum Help.
•Learn from tutorials and manuals, or meet in the online forum to share ideas with thousands of CrazyTalk users from all over the world.