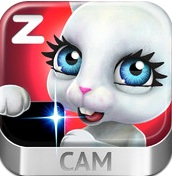 Zoobe Cam is an easy way to share your fun with friends and family: Take a photo, speak your comment, and a cute fully-animated character will deliver a video message for you.
Zoobe Cam is a brand new iOS messaging app that allows you to create, send and post 3D animated videos.
Zoobe Cam provides users with a new way to communicate with their friends.
The software lets the senders overlay a cute, cartoony avatar against a photographic backdrop and have them relay a short voice message.
There are a range of characters you can choose to dictate your message, and numerous emotions they can deliver it in to customize the tone appropriately.
Animations can be shared via SMS and email, and then posted on Facebook and YouTube.
Zoobe Cam is available in most of the countries and already featured in App Stores in Germany, UK, Switzerland, Austria, France etc.